Why make experiments on your hair with hair oil, cream and shampoo that appear on glossy advertisements. They contain chemicals and artificial colours.
Neelibhringadi, as mentioned in the ancient scriptures (Sahasrayogam), is very beneficial to cool head and eyes, prevents falling of hair, effective for skin ailments on head; This is effective in curing chronic headache, and in nurturing dark, lustrous hair. Ayurveda guru's opinion that Neelibhringadi is more effective for hair and head than any oil. Although customers find hair oils of wide diversity in names, colour or packing in market today, widely acclaiming themselves to be patent medicines and demanding exorbitant prices, Neelibhringadi is still the first choice for the majority. Nelibhringadi has many satisfied customers. Neelibhringadi, manufactured as per the ancient scriptures is considered to be the most widely used hair oil. Ask for KPN Neelibhringadi. Now available in India and abroad.
We feel proud to state that we are the first among the Kalan Vaidya family to receive Good Manufacturing Practice (GMP) licence, implemented by the government of India, on the guidelines of WHO (World Health Organization).
Ingredients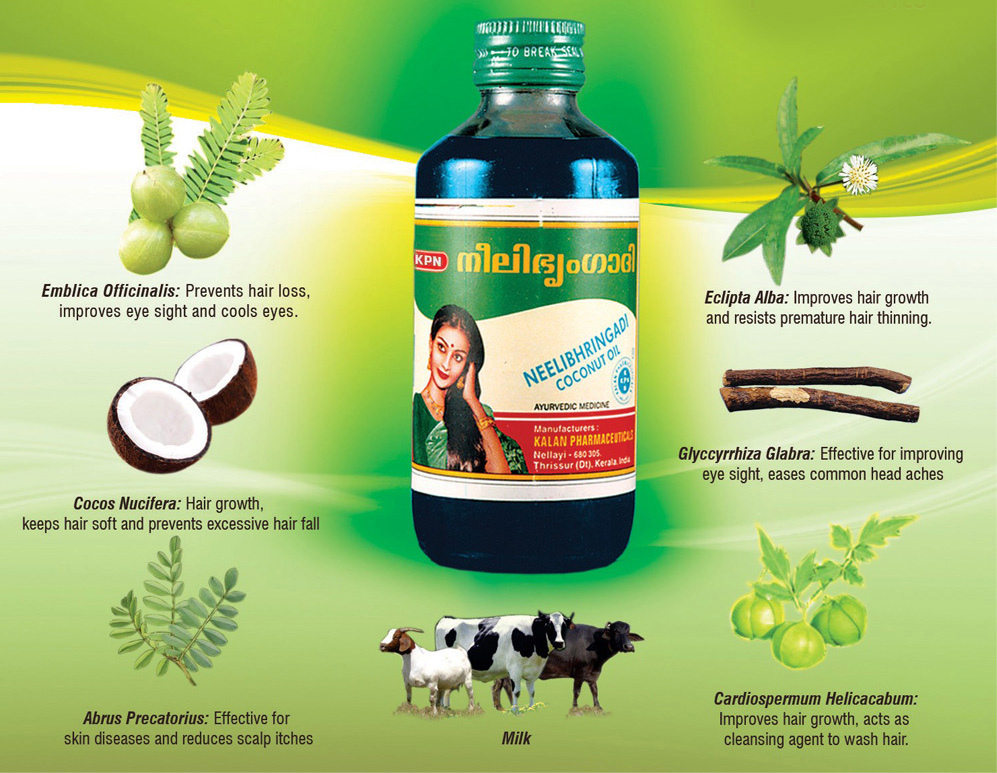 Directions: Apply this oil on head as required and take bath after half an hour. Also can be used a hair oil for combing for better result use deepam Kesathali on head instead of soap or shampoo. Can use Bengal gram or Green gram powder if Deepam Kesathali is unavailable.